CCS Associate Rebecca Shavulsky in A.I.R. Gallery's 11th Biennial Exhibition
CCS Associate Rebecca Shavulsky will exhibit photographic work in the A.I.R. Gallery's Making and Taking: "Pictures" Reconsidered, the gallery's 11th Biennial Exhibition.
Making and Taking: "Pictures" Reconsidered
December 4, 2014 – January 3, 2015
Opening Reception: Thursday, December 4, 6-9pm
A.I.R. GALLERY
111 Front Street, #228
Brooklyn, NY 11201
www.airgallery.org
(212) 255 6651
Hours: Wed – Sun 12-6pm; Please note the gallery will be closed for the holidays, 12/23/14 – 1/1/15.
A.I.R. Gallery's mission is to provide a professional and permanent exhibition space for women artists to present work of quality and diversity. The gallery also provides lectures, symposia and a Fellowship Program for emerging women artists. A.I.R. Gallery sustains a political awareness and voice, and brings new understanding to old attitudes about women in the­ arts.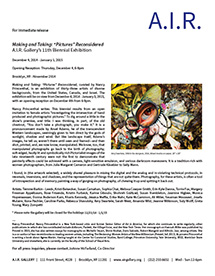 The exhibition is curated by Nancy Princenthal, a New York-based critic and former Senior Editor of Art in America, for which she continues to write regularly; other publications to which she has contributed include Artforum, Parkett, the Village Voice, and the New York Times. Her monograph on Hannah Wilke was published by Prestel in 2010; she has also written essays for monographs on Michelle Stuart, Shirin Neshat, Doris Salcedo, Robert Mangold and Alfredo Jaar, among others. She is a co-author of two recent books on leading women artists, including The Reckoning: Women Artists of the New Millennium (Prestel, Fall 2013). Having taught at the Center for Curatorial Studies, Bard College; Princeton University; Yale University, RISD, Montclair State University and elsewhere, she is currently on the faculty of the School of Visual Arts.
Congratulations to Rebecca. Learn more about Rebecca and her work at her website.
Click here to open and download the gallery's exhibition release, including comments from the curator and information on the exhibition's opening reception, December 4, 2014.